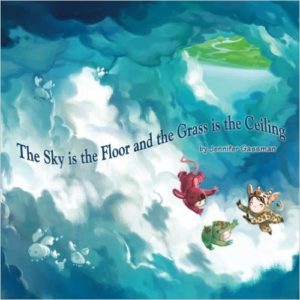 Jennifer Gassman's book "The Sky is the Floor and the Grass is the Ceiling" was written with children in mind.  However it's characters and message are universal to all ages.  Jennifer resides in Manhattan, Kansas; however her parent, Julius and Betty Gassman were born and raised in Ness City, Kansas; where they both graduated from Ness City High School.
Having suffered from a chronic medical condition for most of her life, most likely to result of a severe gluten allergy, Gassman's health declined significantly about four years ago.  That when she turned to the book in earnest, devoting most of her time getting it published.
Long-time family friend, Sabra Clarke, approached me (Jean Schlegel, library director) with the possibility of helping promote Jennifer's book here at the Ness City Public Library.  Jennifer would like to get 50 book reviews on Amazon, then Amazon will help promote her book.  Please help us with this endeavor.  We do have Miss Gassman's book, "The Sky is the Floor and the Grass is the Ceiling" on hand if anyone would like to purchase one.  The cost is $15.99, and would make a wonderful Christmas or Birthday gift.  If you would just like to read the book and write a short review to help Jennifer out, we have a copy here at the library for check-out.
All proceeds go to Jennifer, but most important are the book reviews,; so be sure to go to Amazon. com  and  type in the title of Jennifer's book and write a short review, they can be a simply as "I really like this book!"
Thank you for your hlep on this very special project.